HP Moonshot Dissection¶
Introduction¶
For most people – non-engineers and engineers alike – servers, switches and routers are nothing but black-boxes with blinking LEDs that fill up Data Centers. In my experience as a hardware engineer, I've noticed that companies making these appliances spend very little time refining their physical looks. They are utilitarian and serve a specific purpose – which means they end up being big, bulky and ugly, and understandably so because customers don't buy them based on appearances. No one's going to hold them up to the light and examine their curves. Selling these appliances depends upon the shrewdness of the sales person and of course, the added functionality they offer over competing products.
But, once in a while, we see a product which has no business being beautiful. On this 5th anniversary of the HP Moonshot I present to you a brief dissection of this mean machine.
7 Components¶
The HP Moonshot is primarily made up of 7 components
1. Baseboard
2. Server Cartridges x 45
3. Switch Cards x 2
4. Uplink Modules (Ethernet ports) x 2
5. Chassis Control Module (Management/Console ports) x 1
6. Fan x 5
7. Power Supply x 4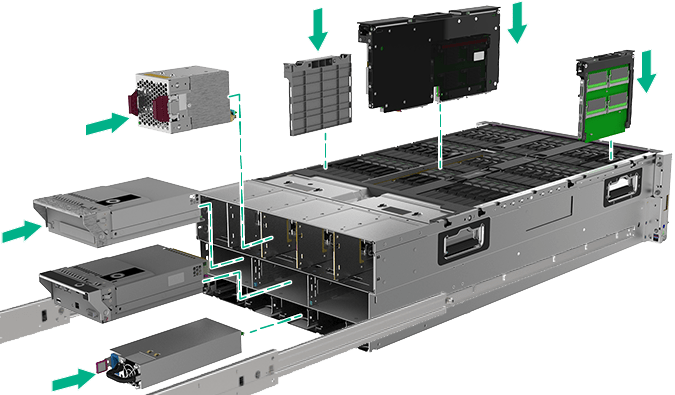 Top View¶
On opening the hood of the chassis, you'll find the first 3 components – 45 server cartridges and the 2 switch cards plugged into the baseboard.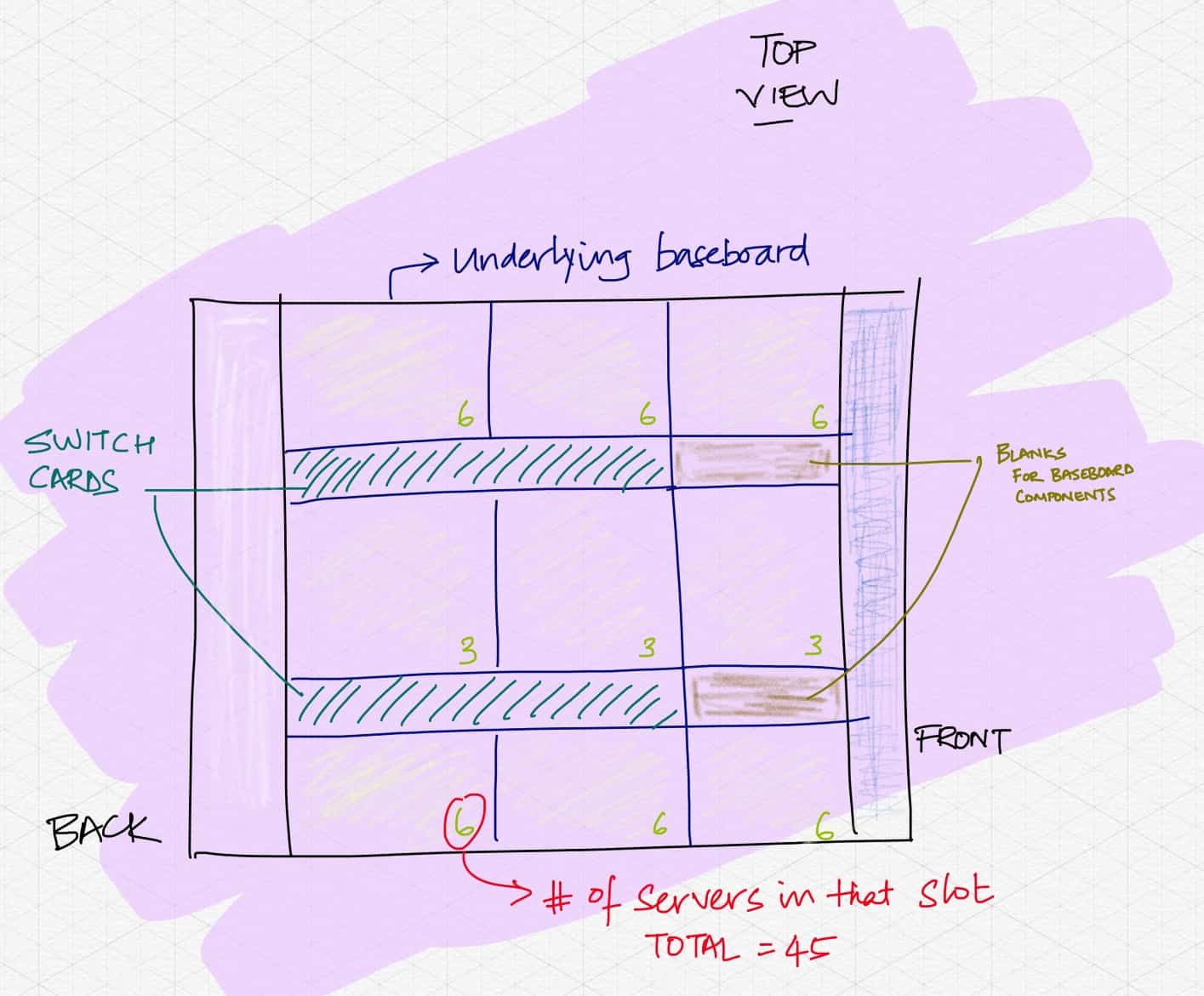 Baseboard¶
Here's close up of the Baseboard. Notice that server cards and the switch cards have different footprints and connectors. Also, there's some blank space at the head of the switch cards for baseboard components.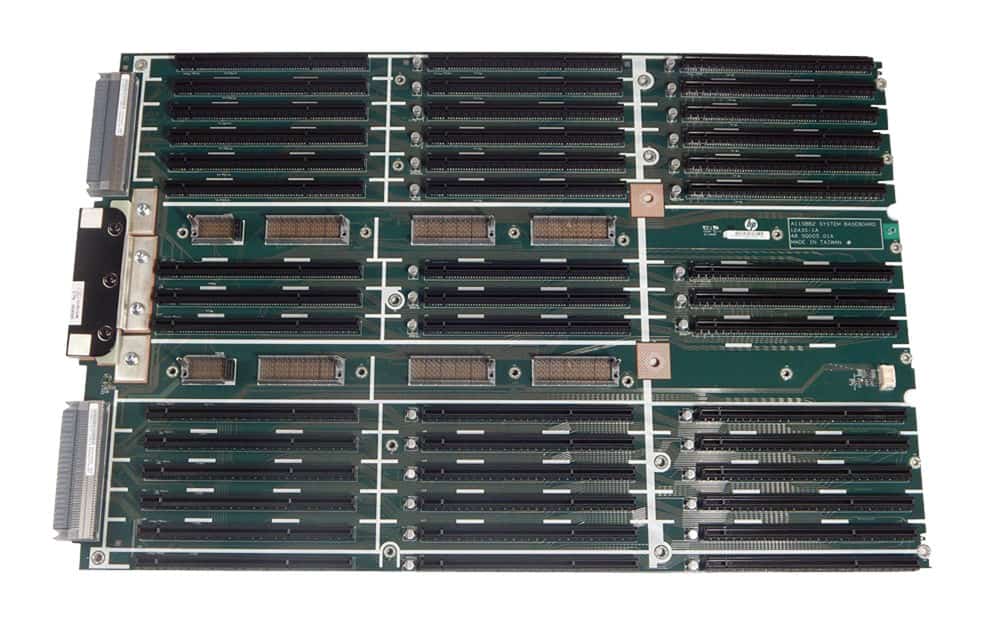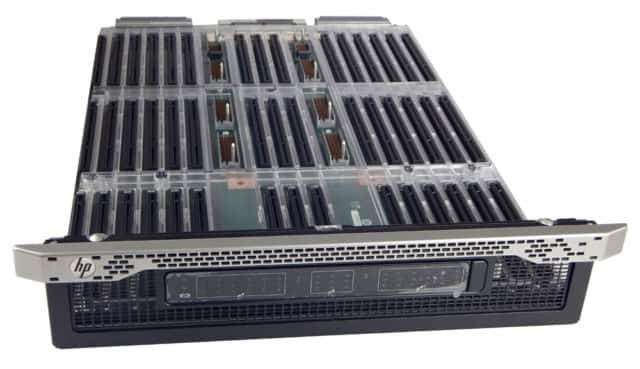 Switch Card¶
The Switch Card connects the Uplink Module (the ethernet ports that lead to the outside world) to the 45 server cards. There is space for 2 switch cards which can be configured for redundancy or traffic isolation. Its dimensions are roughly twice the length and width of the server cards.
The connection between the switch card and the server cartridges are either 1Gbps or 10Gbps depending on the type of server cartridge.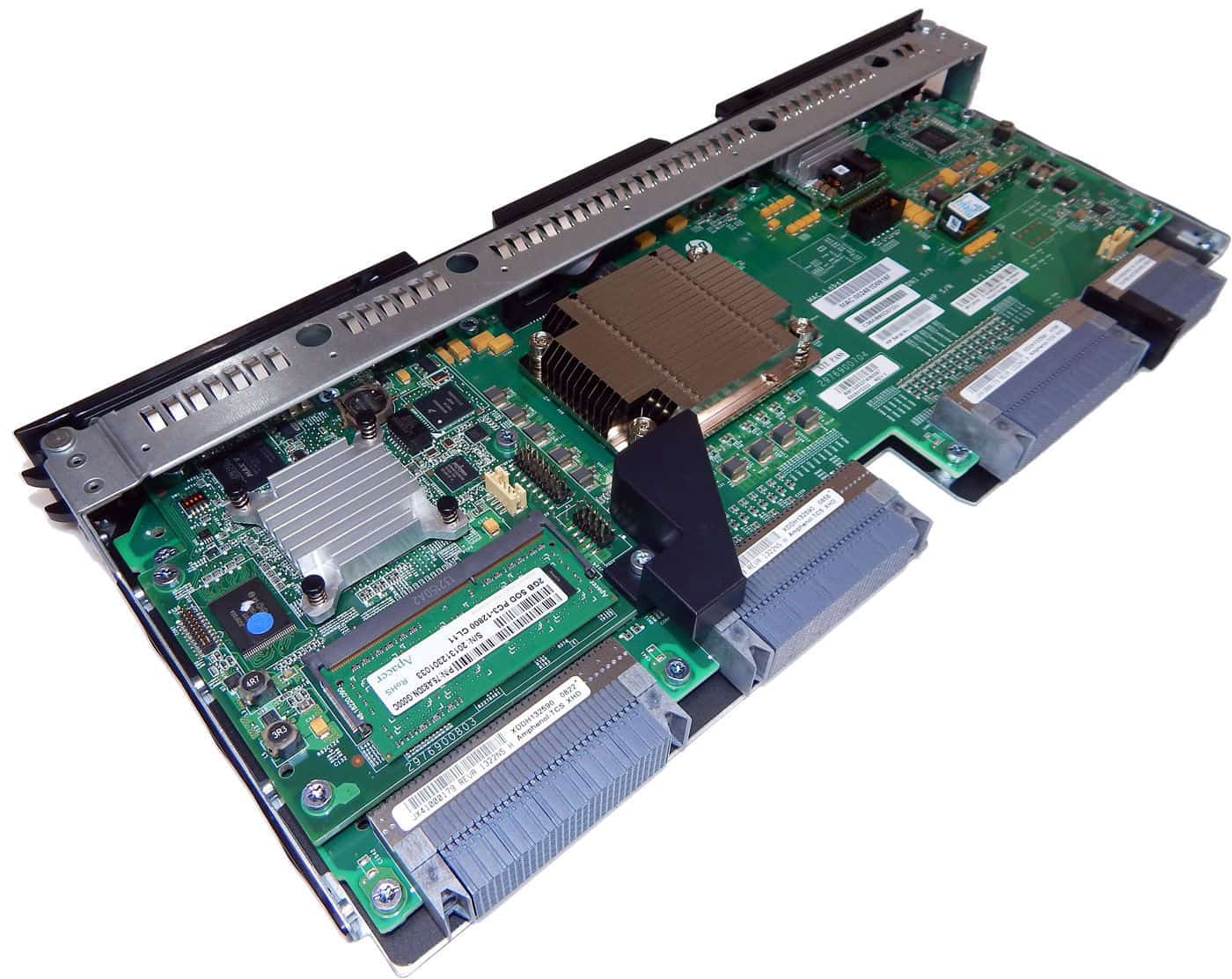 Server Cartridge¶
HP offers 4 varieties of server cartridges. As you would expect, they all have one or more processors, an ethernet NIC, DIMM slots for RAM and m.2 storage slots.
Your options are -
1. 4 x AMD Opteron X2150 1.5GHz processor
2. 4 x 8GB DDR3 SODIMM slots
3. 4 x 2242 m.2 SSD
4. Broadcom BCM5720 Dual 1GbE NIC


1 x Xeon E3-1284L 2.9GHz processor
4 x 8GB DDR3 SODIMM slots
1 x 2280 m.2 SSD or NVME 
Mellanox Connect-X3 Dual 10GbE NIC


1 x Intel Xeon E3 v5 "Skylake-H" E3-1585L v5: 
    [4 core, 3.0 GHz base/3.4 GHz]
4 x 16GB DDR4 SODIMM slots
1 x 2242 m.2 SSD and 4 x 2280 m.2 NVME
Mellanox Connect-X3 Dual 10GbE NIC

1 x Intel Xeon D "Broadwell-DE" D-1548: 
    [8 core, 2.0 GHz base/2.3 GHz all-core turbo] 
D-15871: 16 core, 1.7 GHz base/2.1 GHz all-core turbo
4 x 32GB DDR4 RDIMM slots
1 x 2242 m.2 SSD and 2 x 2280 or 22110 m.2 NVME
Mellanox Connect-X3 Dual 10GbE NIC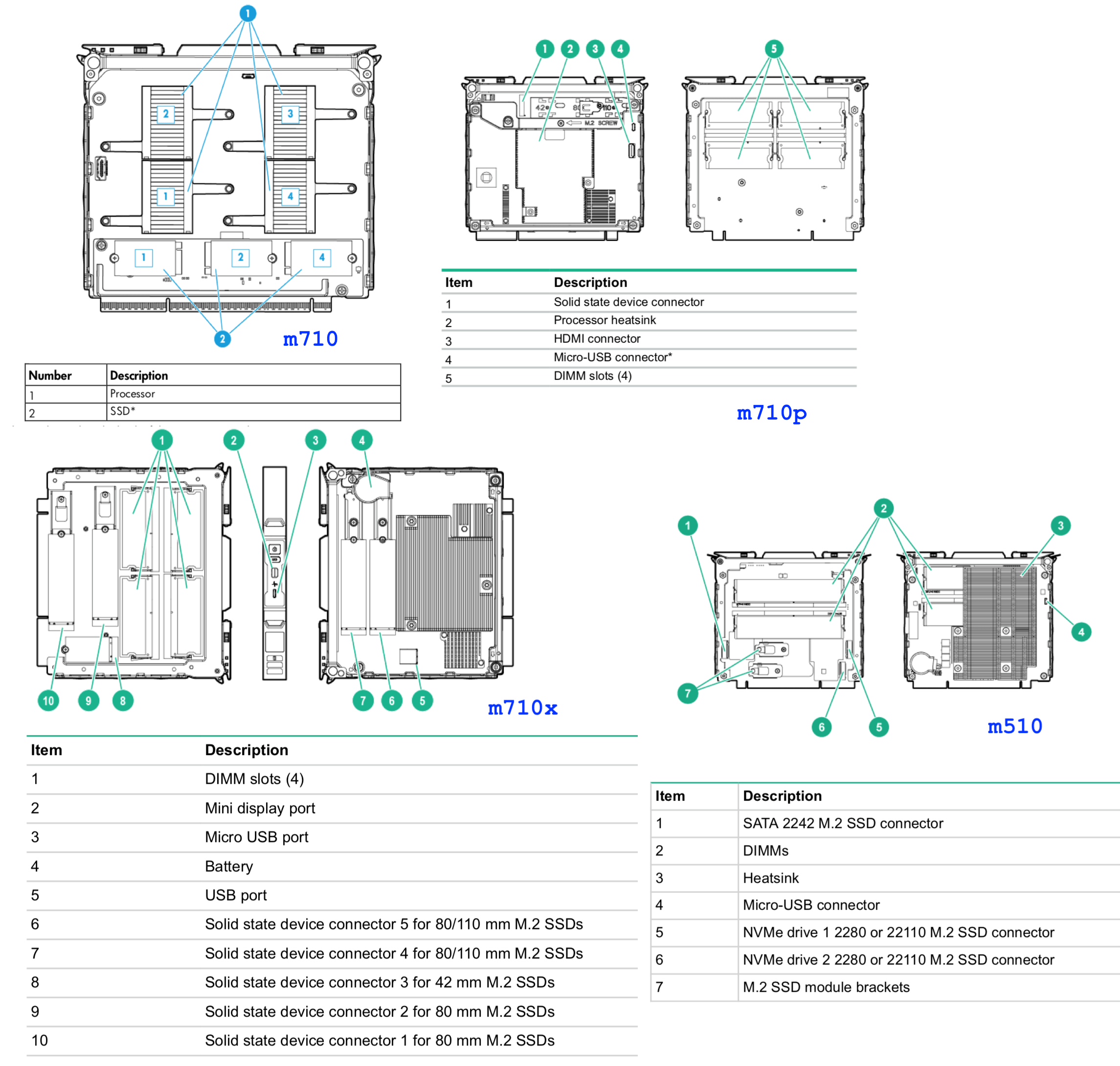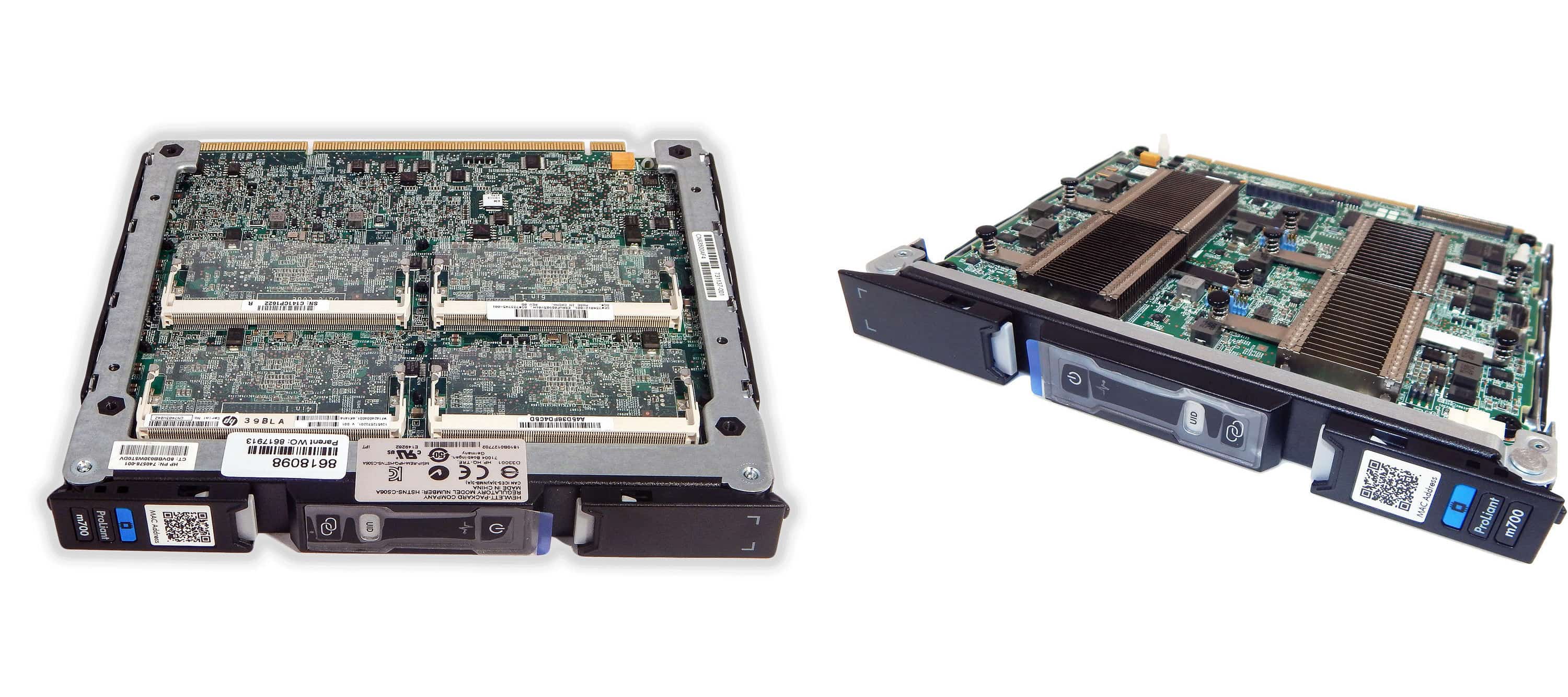 Back View¶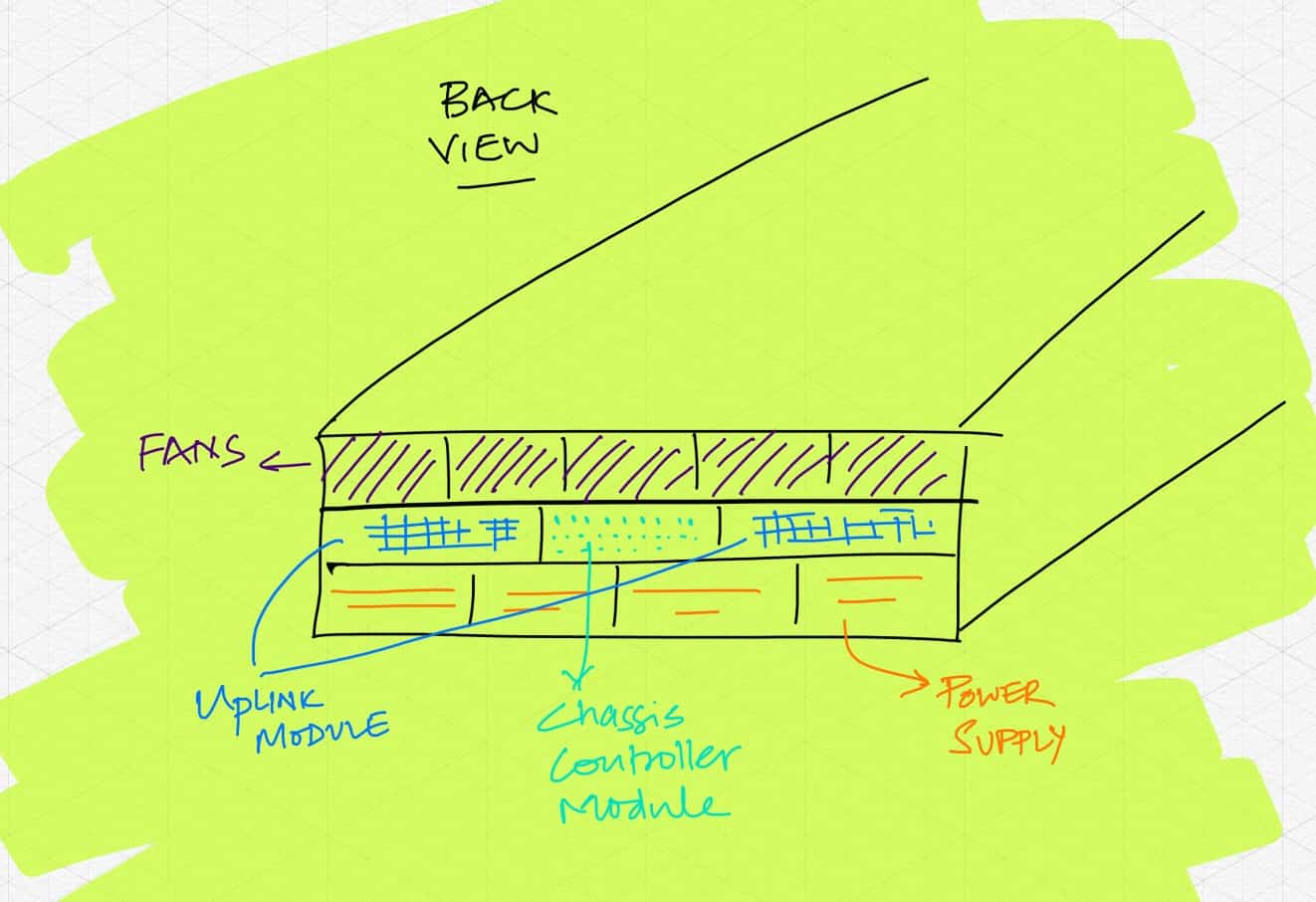 The chassis itself is 4.3U tall and at the back you'll find the remaining 4 components arranged in 3 tiers.
The top tier has 5 hot pluggable fans to cool the chassis
The second tier has 3 slots. The left and the right are occupied by the Uplink Modules. Uplink Modules provide the network interface to communicate with the outside world. The total bandwidth is 160Gbps and you have the option of 4 x QSFP+ (40G) ports or 16 x SFP+ (10G) ports. The middle slot is occupied by the Chassis Controller Module.
Finally, the third tier has 4 power supplies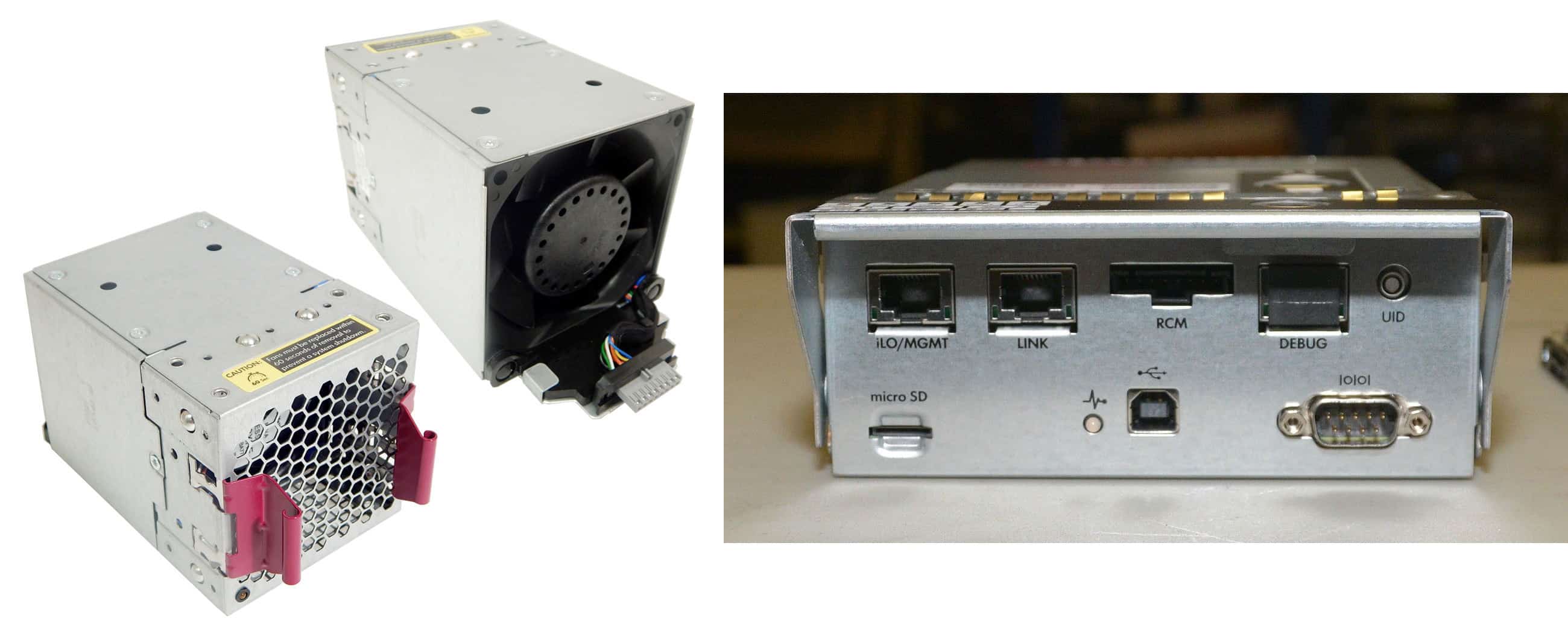 Official Press Release¶
That was a whirlwind tour of the HP Moonshot and I leave you with the official press release from 5 years ago. If you wish to dig-in further, the resources listed in the References section below would be a good place to start.

Apr 8, 2013
References¶
Picture Sources - The pictures are from one of these 3 sources

Hand drawn using the Linea app on iPad
The official HP guides that are publicly available
Used parts being sold on eBay

Server Cartridges
---